Amuro Lee wrote:Due to forum setting constraints, only administrators and moderators can upload photos directly to a post.
How to share your own pictures, images here at Stridaforum:
1.
Create
your free
account
at an official picture hosting site, like
http://imageshack.us/
http://photobucket.com/
http://www.flickr.com/
2.
Load up
your pictures
(It might be possible, depending on your image hoster, that the pictures must be resized before the upload, therefore you might use any picture software, here is a freeware example with ~ 30 languages:
http://irfanview.tuwien.ac.at/
)
3.
Please
resize
your pictures to 480 x 360 (360 x 480) pixel, otherwise they will be cropped at the forum!
Edited 21.10.2013
For unknown reasons does the forum software accept now picture
widths
of up to 550 pixel.
The
height
limit without cropping wasn't figured out yet, but up to 550 px should work.
4.
Copy
the imagelink (img code), which was generated by your picture host.
For example, when using photobucket, the wanted link is available by hovering the cursor over the thumbnails in the preview: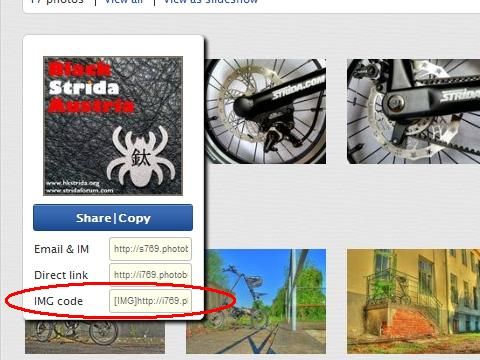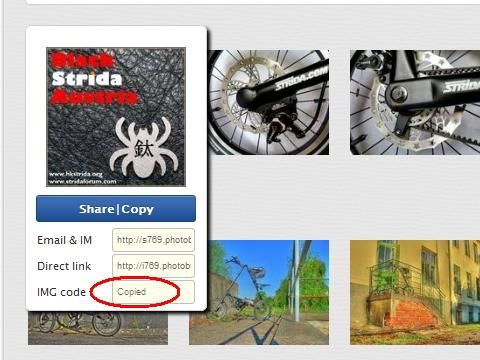 5.
Paste
the image link in the posting window, it should look like this: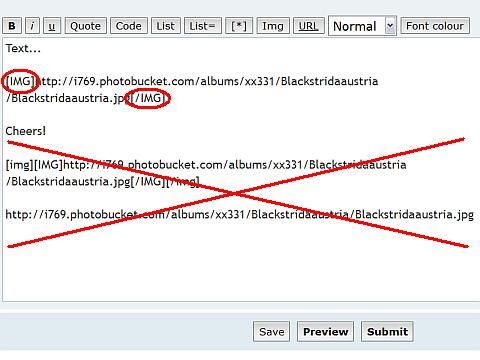 The
preview
button shows possible failures:
A.
The picture is cropped (too big)
B.
The second image link does not work (twice (img) bracketed)
C.
The third image link shows no picture (not (img) bracketed)
Welcome!
Edited 12. 03. 2013:
Hej folks,
seems that some people still having trouble...
Anyway, here are lists of image hosting sites:
45 Photo Sharing Sites
Top 20 Photo Storage and Sharing Sites
- You have just a few Strida related pics and uploading/resizing issues?
Then you might send me the images via email,
I'd resize, upload and post them for you (of course signed with your nickname
)
- or -
send you the generated imagecodes to post the pics by yourself.
Blackstridaaustria@gmx.org
Cheers!