Hi Striders,
created primarily upon request for details of Schlumpf speed drive installation and required tools, the following chart was extended to a (hopefully) nearby complete list of all, usual and special, tools around the Strida workbench.
Maybe it is useful for deciding if you want to repair/maintain "her" by DIY or a professional bike store.
Schlumpf/Speed drive tools:
A
Hook spanner (hook wrench) Ø 60 mm (bottom bracket groove nut)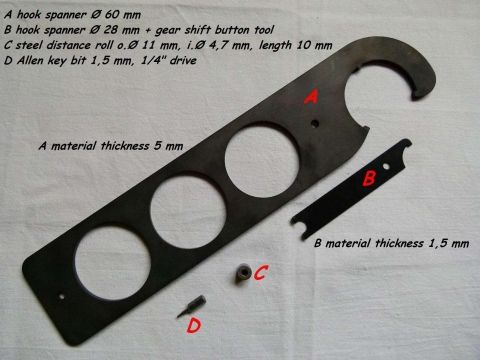 An adjustable hook spanner of correct size range will also do, like this
But it should be recognized that a spanner with only one "hook" must have higher quality than a "3-hook" version!
Usually a "1-hook" version is more expensive due to better material (chrom/vanadium steel) than a "3-hook" version which is stamped out of 5 mm iron sheet.
Vice-versa is that the reason for the low price of the Schlumpf tool set "Installation and maintenance" for 32 CHF which is shown above!
And also the reason why the tool set is recommendable for DIY'ers.
The "3-hook" version does have a big disadvantage (it collides with the kickstand mount), therefore is correct belt tension adjustment not impossible, but it requires several steps more.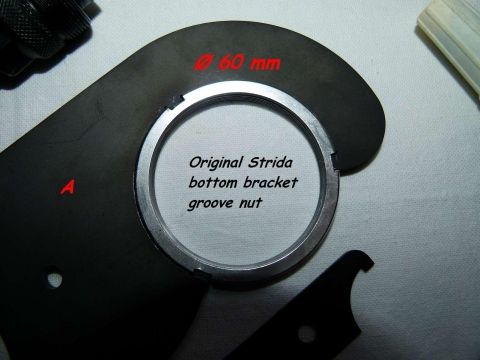 I think that the 60 mm hook spanner is a very important tool, not only for two speed riders because the spanner should be used to tighten the big groove nut after/while belt tension adjustment.
Tightening the kickstand mount/belt tension bolt hard and let the big groove nut loose will not really do, I am sure.
A correct and durable belt tension adjusting procedure/securing without use of a hook spanner is impossible, regardless of one or two gears.
Every Strida user should use this tool for belt tension adjustment!
B
Hook spanner Ø 28 mm (for gearing play adjustment) + special key for gear shift button (for gear shift button adjustment)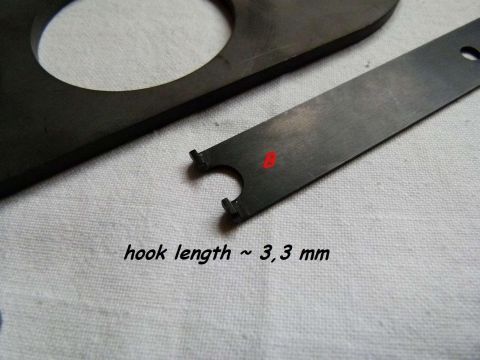 C
Steel distance roll, outer Ø 11,0 mm, inner Ø 4,7 mm, length 10,0 mm
Absolutely necessary for UNmounting of Schlumpf cranks!!!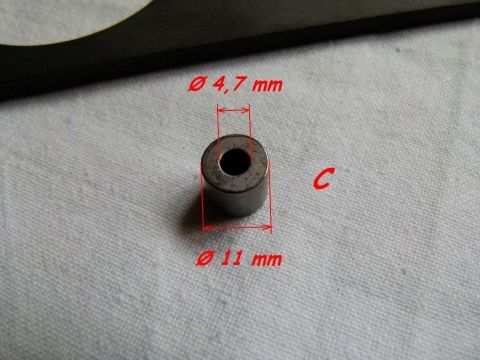 D
Allen key bit 1,5 mm, 1/4" hexagonal drive (for gear shift button adjustment/securing)
The Schlumpf tool set "Maintenance" is containing parts B + C + D for 15 CHF.
Additional required common tools for DIY: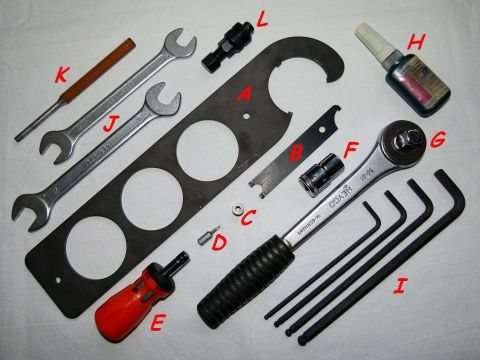 E
Screw driver grip (or anything similar with 1/4" hex bit drive/connector) to drive tool D
F
14 mm hexagon socket nut with 1/2" drive (for the crank bolts)
G
Ratchet (or anything similar with 1/2" drive) to drive tool F
H
Bolt securing adhesive (loctite or similar)
I
Allen (hex) keys 4,5,6,8 mm
J
Flat spanner (wrench) size 15 mm (for pedals un/remounting), size 16,17,18 mm (depending on your crank tool L)
K
Drift punch (pin drive) Ø 6 mm (for groove nut removal help)
L
Crank extractor tool, for example the one of BBB Powerpull BTL-14
http://bbbcycling.com/accessories/workshop-tools/BTL-14/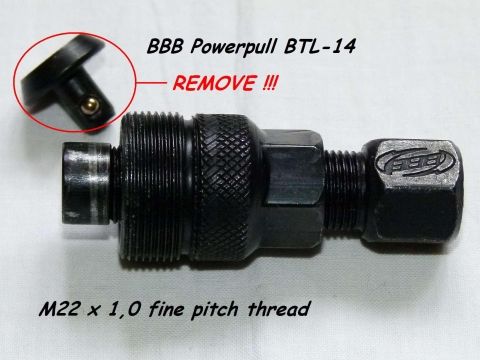 The small conical part must be removed for use !!!
Thread: M22 x 1,0 (fine pitch thread)
Required wrench size for BTL-14: 15mm + 16 mm (tools J)
For a semiprofessional workshop recommendable: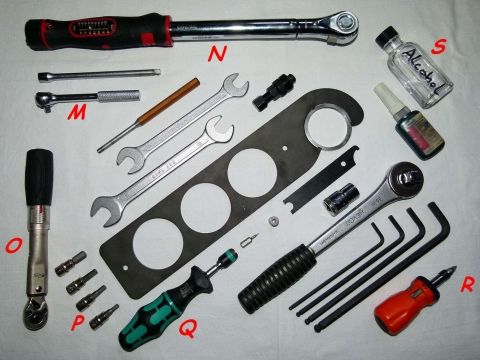 M
Little ratchet (or anything similar with 1/4" hex bit drive/connector) + elongation (~ 120 mm),
In combination with the tools P to save time/have more comfort while snubber bolt and rear brake caliper bolts un/remounting.
And to save the durability of the tool O!
N
1/2" drive torque wrench, e.g. Norbar TT 100, torque range 20 - 100 Nm (crank bolts 55 Nm)
http://www.norbar.com.cn/
O
1/4" drive torque wrench (ratchet), torque range 2 - 24 Nm, e.g. BBB torqueset BTL-73, (brake caliper bolts 8 Nm)
http://bbbcycling.com/accessories/tool-boxes/BTL-73/
P
Allen key hex nuts 4,5,6,8,mm (part of the BBB kit above)
Q
Adjustable torque screw driver with 1/4" drive, e.g. Wera 7440, range 0,3 - 1,2 Nm (for professional tightening of the gear shift button)
http://www.wera.de/catalog
R
Philips screw driver bit (kickstand height adjustment)
S
Alcohol for cleaning purposes
T
Freewheel removal tool, e. g. Shimano TL-FW45 (Y-120 09150)
Shimano.com/Tools.pdf
Alternate freewheel removal tool:
Park Tool FR-6 Freewheel Remover
http://www.parktool.com/product/freewheel-remover-FR-6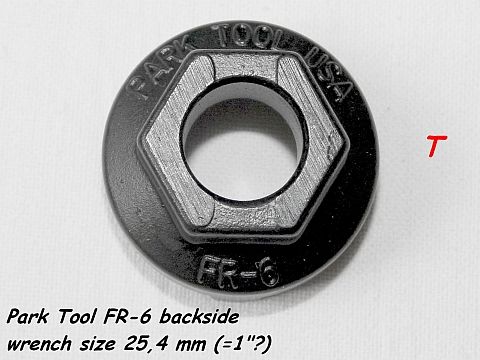 U
Adjustable flat wrench ~ 10" (drive for tool T)
V
Soft head hammer, preferably wood or plastic (drive tools U + T)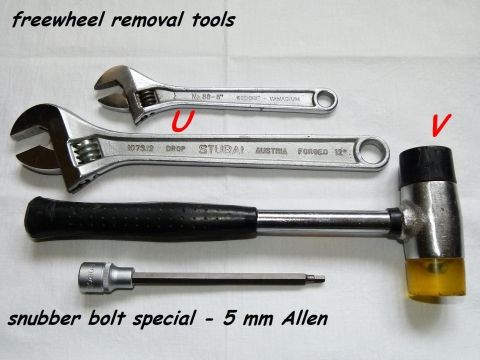 Special tools and alternative tools:
--
Elongated Allen key 5 mm, ~ 100 mm, drive 1/2", shown above
(enhanced reachability of some snubber bolts)
--
Bearing extractor tool, e g. Kukko 21-1, Ø 12 - 16 mm.
To be complete is a second size recommended; Ø 14 - 19 mm.
A slide hammer or a pulling device is required to drive the bearing pullers (not pictured).
--
Wheelbuilding tools
Measuring clockwork, trueing stand, metal ruler, caliper rule, spoke keys are required at least.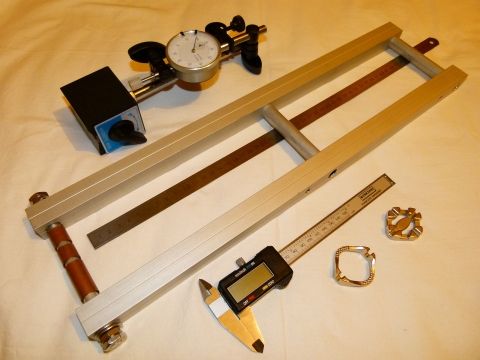 --
Alternative hook spanner by USAG (tool A,B)
http://www.usag.it/catalog/en/products/details/886/282/Hook_wrenches_with_square_pin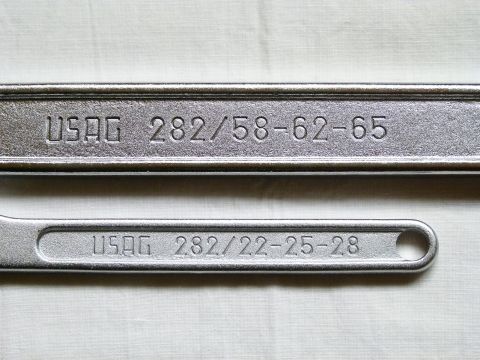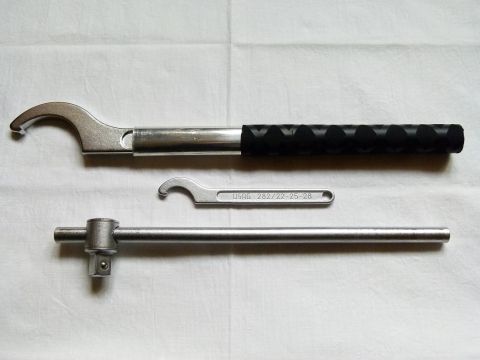 --
Alternative 1/2" tool drive (tool G)
pics above 1600 x 1200
The list above does not recognize the original Strida tools and tools which are commonly used for bicycle operating/repairing, for example thread repair tools, brake cable cutter, air pump or tyre levers.
Editing supposable...
Questions, comments welcome!