Dear reader,
I'm sorry for the long wait but now it's time to reveal my discoveries.
Maybe uncommon, but I'd like first to express my feelings, I'm
- disappointed – by Ming cycle
- asshamed – for taking that much time to understand
- unburdened – because we are now able to fix the rear hinge issues finally
About 3 or 4 months ago I received feedback about my previous rear hinge kit (
the heavy duty version
). Some users reported malfunctions (bolt 373 turning loose by itself) while others had no issues at all.
I couldn't find a quick solution, so I used a few days of my holidays to study once more many articles about cup springs (also named Belleville springs or disc springs) collected again physical data and tried some disc spring calculation software. Instinctively I smelled that the issues must have something in common with our springs, but at this time, about six weeks ago I couldn't verify that.
However; I've learned a lot about those weird cup springs – especially one detail let me think long and hard...I knew that cup springs are able to generate a high force within a very short way of travel.
But the results in real numbers with the data of our springs were highly astonishing and I was in doubt – could that be correct?
According to my calculations the preload at the spring of my Strida SX would be around 1000 kg!!
That is much too high – and it must be nonsense.
Well...and suddenly I noticed something really odd – the protruding lenght of the axle stump (above the frame tube) is in fact different on each Strida!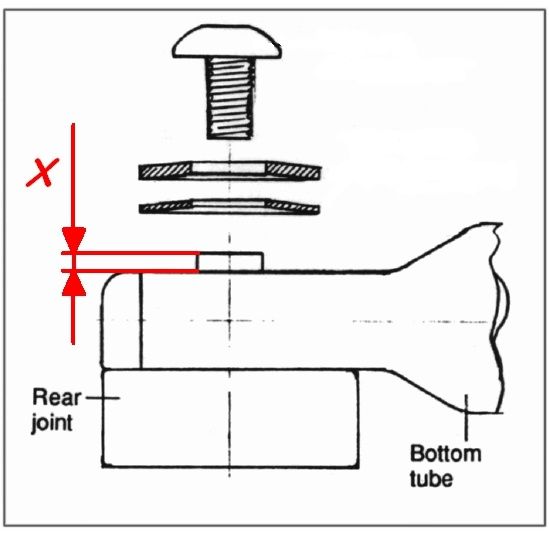 That means;
- Ming cycle does not know how to treat a cup spring within its specifications
- They overtension the cup spring during the assembling
- The cup spring can not work as intended because it was damaged while installing
One could also say that the tolerances (of the protruding part) are much too high to allow a reasonable adjustment of the springs pre – tension.
This is also the explanation why the heavy duty kit didn't work at all Strida bikes – it worked on these with the longer axle stumps, but not on shorter ones.
And we can see that easily even on the real numbers – all we need is just logical thinking!
Look – our cup springs are, unloaded, about 3,0 mm high.
The material thickness is 1,7 mm which is also very important (explanation follows below case 1).
Just check according data sheets; there it says that a heigth reduction of
- one tenth mm will generate a force of XX kg.
- but two tenths create already a force of XXX kg!
- and five tenths produce whopping XXXX kg.
Soo, let's get back to the real numbers, here's
Case 1 Martin's Strida/Germany:
Protruding length 1,4 mm – that means 1,6 mm height reduction of the spring which is a physical impossibility!
(A spring with height 3,0 and thickness 1,7 can be compressed for maximal 1,3 mm, but not for 1,6 mm!)
Effect: Cup spring flattened, washer deformed, frame surface damaged.
Case 2 Luis' Strida/Portugal:
Protruding length 1,7 mm – heigth reduction of 1,3 mm (instead of 0,2 - 0,3 mm).
Effect: Cup spring flattened, washer deformed, frame surface damaged.
Case 3 BSA Strida SX/Austria:
Protruding length 2,3 mm – heigth reduction of 0,7 mm (instead of 0,2 - 0,3 mm).
Force in the range of tons – much too much.
Effect as above, just gradually a little less.
I've collected more measurings; so far we can't figure out WHY these are all different – but they are definitely. (Just one suspect; perhaps the paint thickness? Note that one has to count three layers of paint at this point, a tolerance will be tripled here.)
In conclusion, we may claim also that Ming cycle's pretension of the cup spring, the way of travel, must be totally wrong. (My biggest mistake was to trust Ming's standards.)
Meanwhile, maybe two weeks later, I've received a very friendly and highly informative reply from Mr. Mark Sanders, sharing many details of his own improvement suggestions for the rear hinge.
The, for my meaning, most promising part is an adjustable bolt!
And accidentally just two days later I've got the images below, what a coincidence.
Thanks to Christoph, the skilled motorcycle mechanic from Germany at this chance!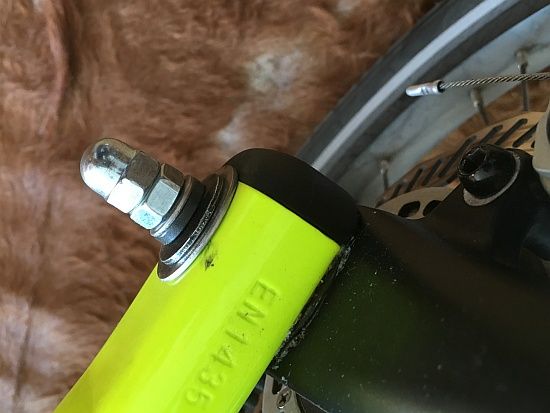 I'm convinced that the adjustable bolt will be our final solution to handle all rear hinge issues.
Anyway it will need some time to develop and manufacture this new part, as an interim solution I can offer another system which is, unfortunately, a bit inconvenient.
Please refer to the drawing below for the principle; there was another spacer inside the cup spring added. This spacer (red at the drawing) works as an "axle elongation", it has to match exactly to the axle stumps's protruding length.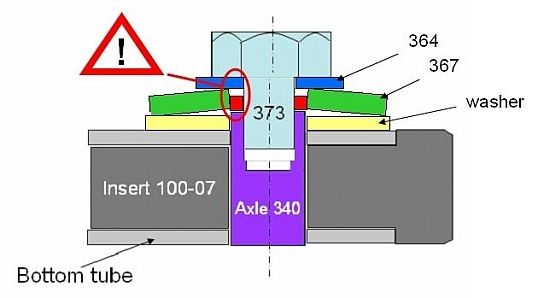 So, if anybody wants to use this system – I need the mentioned length
in advance
to create the matching spacer.
Based on the suggestions of an Austrian engineer there was also the top washer replaced by brass to reduce friction.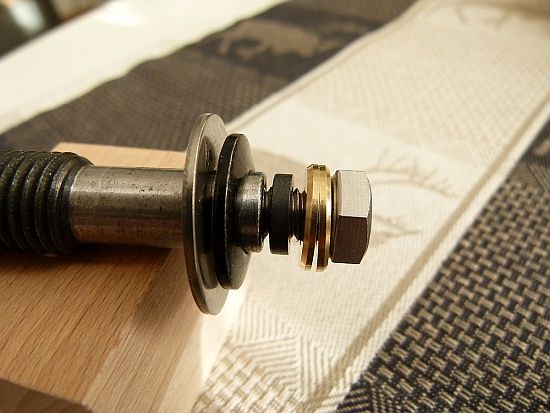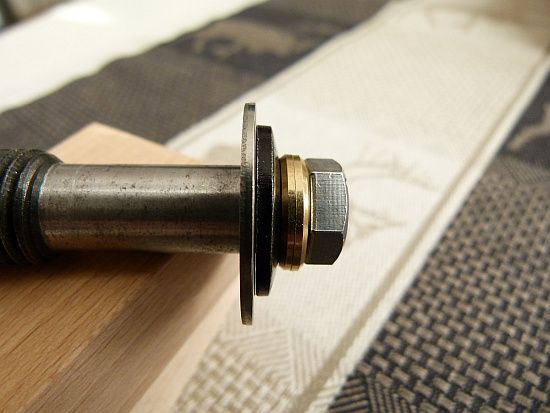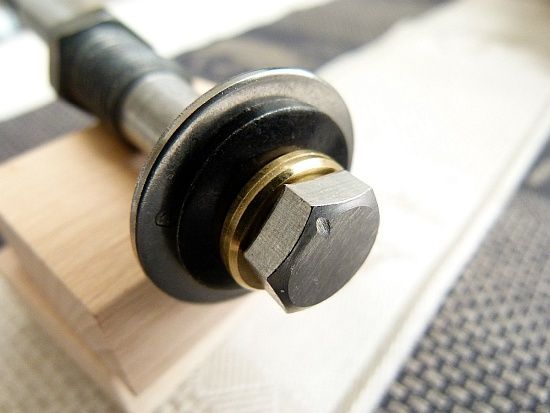 Questions are welcome as always, please contact me via mail if you in are need of a new rear hinge kit.
Cheers,
Chris